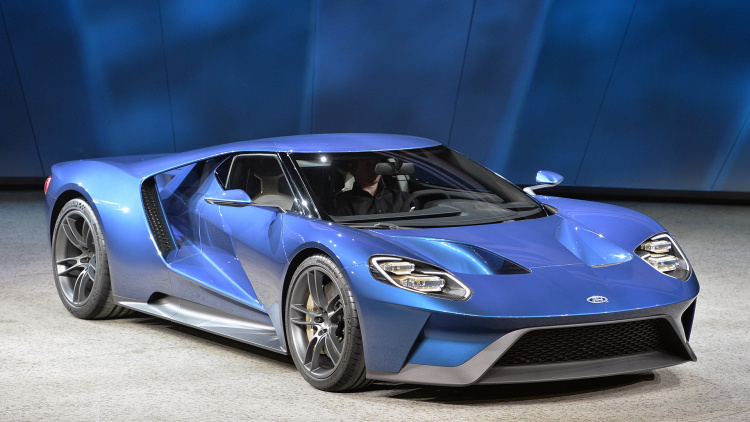 Probably the biggest surprise and most talked about car reveling at the Detroit Auto Show was non other than the new Ford GT.  This soon to be production car looks to be straight out of a futuristic movie with its new and modern looking facelift from the old GT, aggressive lines and the use of carbon fiber all over the car.
What might surprise the old Ford GT fans the most is not the new appearance of the car but rather what drives it.  As we all know Ford is known for building their muscle cars with big V8 engines and for those special editions they came with superchargers.  Well that is all about to change starting with the new GT.  It is now equipped with a puny 3.5-liter twin-turbo V6 that produced a whopping 600+ wheel horsepower; making it the most powerful EcoBoost engine ever!  This maybe the end of large displacement engines for Ford, but for all the power freaks out there this engine will satisfy every bone in their body.  The engine is then mated to a new 7-speed DCT transmission, that can easily handle whatever that 3.5-liter engine can dish out.
To keep all this power in check Ford equipped the New GT with carbon-ceramic brakes, 20″ forged aluminum wheels and a huge set of Michelin Super Sport Cup 2 tires.  The rotors are not the only thing on the GT that has carbon fiber in them.  The GT was completely built around a carbon fiber monocoque with structural carbon-fiber body panels and aero parts all present.  This gives it that new and modern aggressive styling but also helps to lighten the load.
When is comes to slicing through the air, Ford did not leave anything to chance.  They spent countless hours in the wind tunnel trying to perfect the the right aerodynamics and down force needed to keep the car planted at high speeds.  Ford made the new GT with a narrower canopy than its predecessors, cutting the frontal aerodynamic profile and tapering towards the back. It's also equipped with active aero elements including an active rear wing. Upwards swinging doors ought to make ingress and egress easier to and from the cockpit that's fitted with fixed seats, adjustable pedals and F1-style steering wheel and a fully digital instrument cluster.
If you have any further questions about the new Ford GT please email RW Carbon at info@rwcarbon.com
RW Carbon
(714) 328-4406
Monday – Friday: 8am-4pm
Saturday & Sunday: Closed