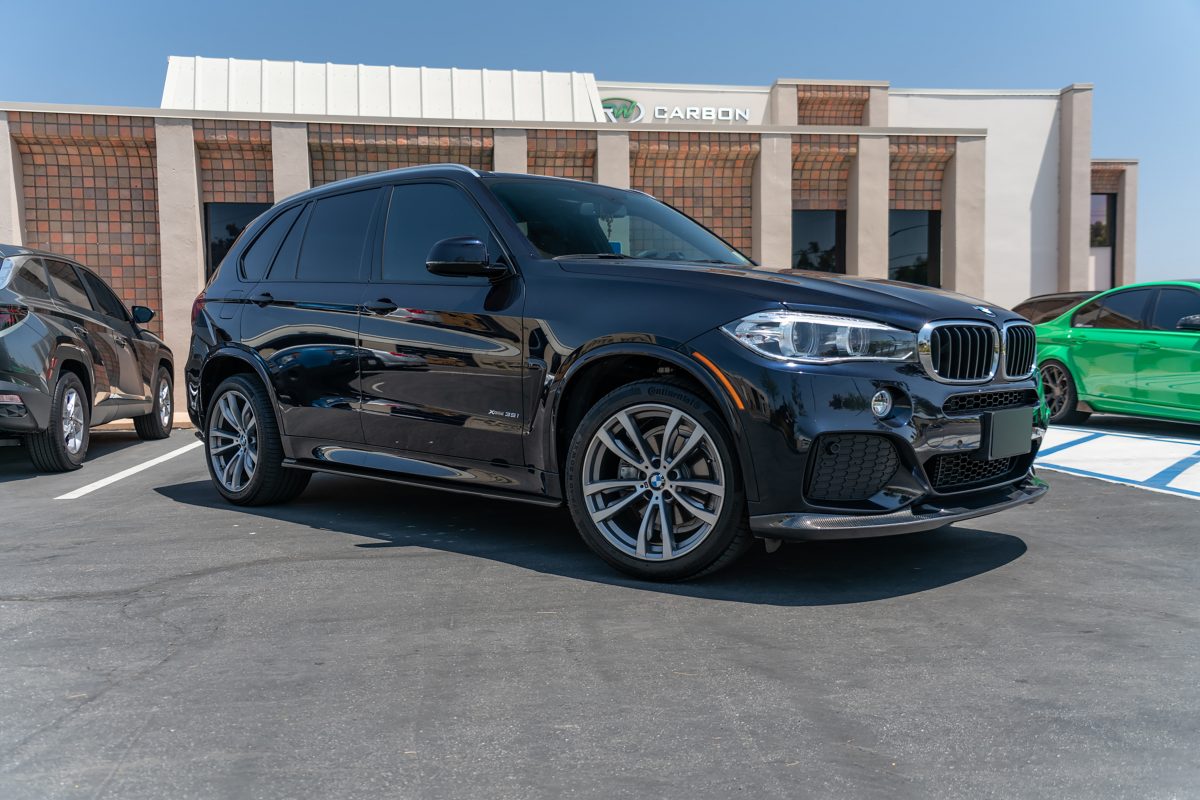 The X5 was the most powerful all-wheel drive vehicle at its time. Its v8 engine has upwards of 567 horsepower. This luxury SUV packs a punch in performance and style. The only thing that could possible bump it up to new heights would be our very own carbon fiber at RW Carbon. Featured on this vehicle is the M Sport 3D Style CF Front Lip, Carbon Fiber Side Skirt Extensions, Carbon Fiber Fender Trims, and the M Sport 3D Style Carbon Fiber Diffuser.
The above pictures are our M Sport 3D Style CF Front Lip. This lip encompasses the power and prowess that this X5 emits. Always professionally crafted, you can be assured that this aggressive nature additive comes with a quality guarantee so you can drive with confidence. We also offer SLiPLO to prevent any scrapes or scratches from everyday driving. No more pesky high angle driveways ruining your day.
Featured above are our Carbon Fiber Fender Trims which offer a unique touch to the side view of the vehicle. They act as a nice accent to an already great looking profile. The carbon fiber look continues its accentuation with our CF Side Skirt Extensions which are a perfect matching look when paired with our front lip and diffuser.
Our M Sport 3D Style Carbon Fiber Diffuser is our most aggressive X5 diffuser. Made with the same 2×2 carbon fiber weave as all our other parts, it sports a beautiful finish that serves only as a plus to an already great looking vehicle. It completes the full carbon fiber look front front to side to back.
If you or anyone else you know have any further questions, please feel free to reach out to us via email info@rwcarbon.com or visit our website at www.rwcarbon.com. We would love to hear from you about your cars, comments, and or questions.
RW Carbon
(714) 328-4406
Monday – Friday: 8am-4pm
Saturday & Sunday: Closed