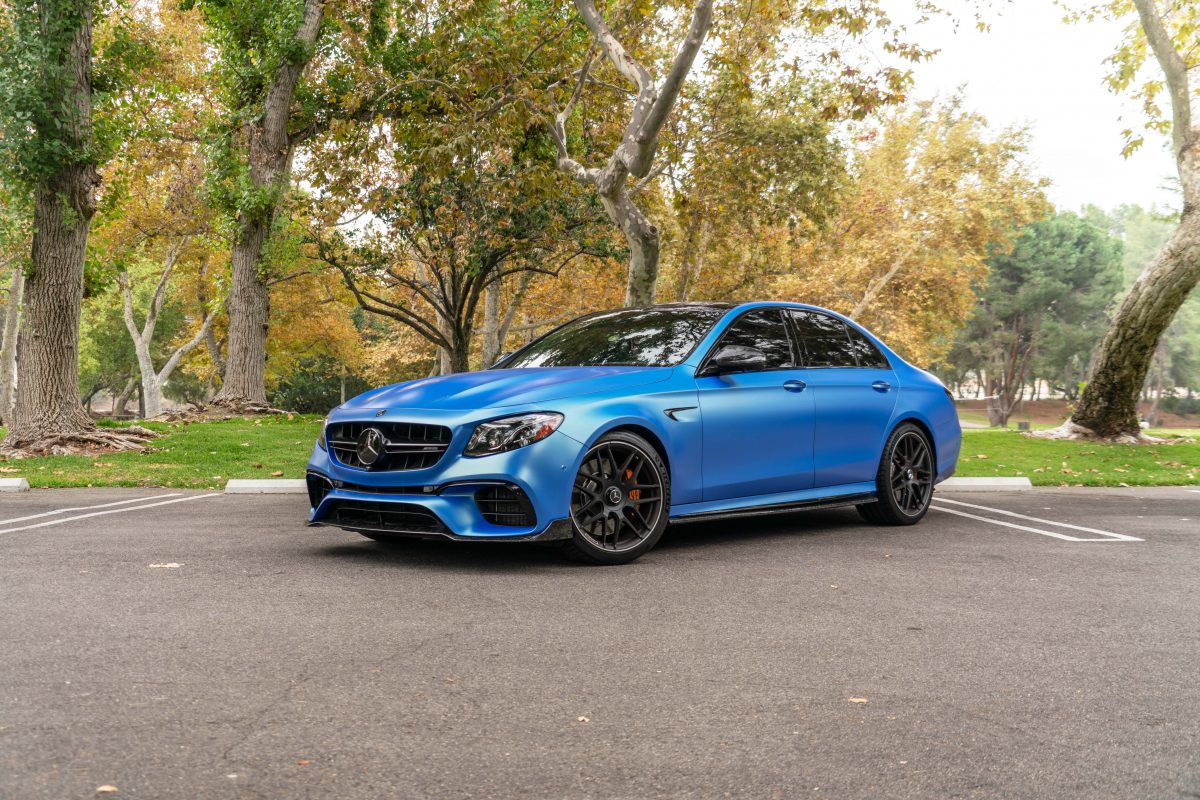 The Mercedes W213 E63S is surely a gorgeous vehicle that packs a punch at a whopping 612 horsepower. It's a vehicle in which the bark does in fact match the bite. In combination of the light blue above mixed in with the unique texture and style of forged carbon fiber, this vehicle is a show stopping piece. The customer who brought in this vehicle wanted a full kit transformation and is happy with the job that's been done here at RW Carbon. Please check out this video of this car to get a better view of the parts. Featured on this vehicle is the Mercedes W213 E63S BRS Forged Carbon Front Lip, Mercedes Forged Carbon Mirror Cap Replacements, Mercedes W213 E63S Forged Carbon Side Skirt Extensions, Mercedes W213 ED1 Style Forged Carbon Trunk Spoiler, and the Mercedes W213 E63S Forged Carbon Rear Diffuser.
Coming up first on this vehicle is the aggressively styled Forged BRS Front Lip. This lip completely transforms the front end appearance of the vehicle. This front lip interestingly enough was only previously available for high-end Lamborghini's but is now available for the Mercedes W213 E63S as seen above.
Coming alongside the vehicle you can find our Mercedes Forged Carbon Mirror Cap Replacements. These mirrors offer a new look over the more traditional 2×2 weave carbon fiber. The messier finish of the forged looks great in contrast to the blue hue of the vehicle.
Continuing with the side view of this car are the Forged Carbon Side Skirt Extensions. These side skirts are extremely lightweight and offer a distinct look to the profile of the vehicle. Like all of our other parts, they are included with a clear coat to promote a lasting shine.
Lastly we arrive to the rear end of the vehicle. The Forged Carbon Fiber Rear Diffuser and the ED1 Style Trunk Spoiler offer a stunning finish to the full kit. This diffuser and trunk spoiler offers peak aggression and style that will leave any drivers you pass on the road envious.
If missed above, please check out this video which offers a better look at the vehicle and parts.
If you or anyone else you know have any further questions, please feel free to reach out to us via email info@rwcarbon.com or visit our website at www.rwcarbon.com. We would love to hear from you about your cars, comments, and or questions.
RW Carbon
(714) 328-4406
Monday – Friday: 8am-4pm
Saturday & Sunday: Closed