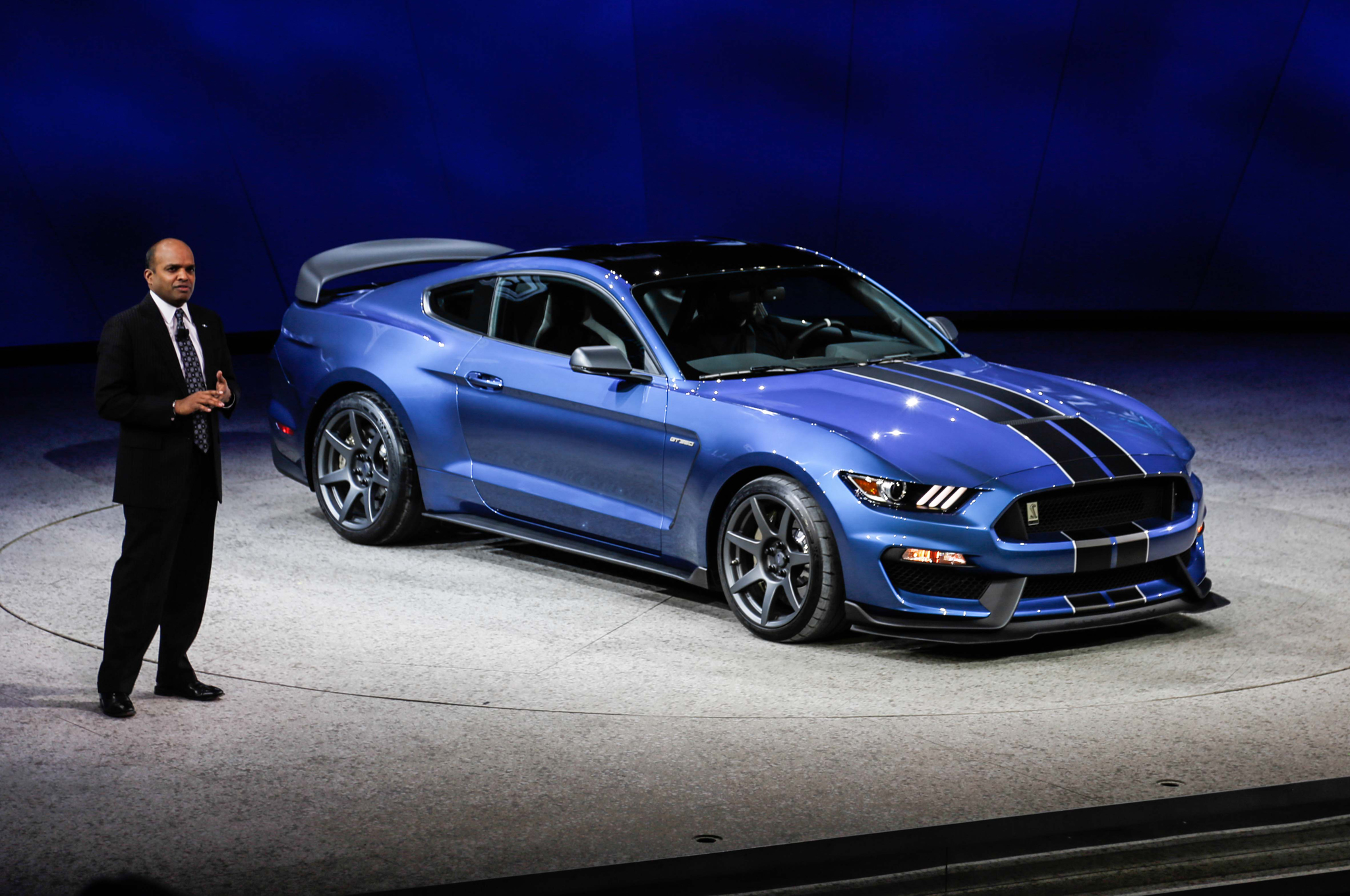 The new 2016 Ford Shelby GT350R Mustang made a big slash in the automotive world after it did a big burnout onto stage at the Detroit Auto Show.  Since then this car has been at the pinnacle of conversion for automotive enthusiast around the world.  Ford says this model is now the most track-capable street-legal production Mustang ever built.
Although this car still pays tribute to the original GT350 competition model back in 1965, most its new designs and advanced features are aimed into the future.  To start, the GT350R will be given an entirely new power-plant that Ford claims is the most powerful naturally aspirated production V-8 engine.  It is also the first ever production 5.2-liter V-8 with a flat-plane crankshaft that is designed for high-speed breathing and comes attached to a six-speed manual transmission.  With all the new advancements Ford was able to produce 500 hp and 400 lb-ft of torque.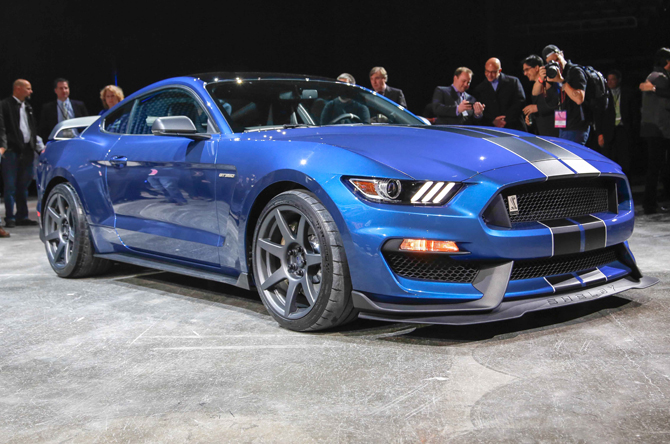 Ford says the GT350R is completely new from the ground up, including the suspension which benefits from special tuning and revised spring rates, with anti-roll bars, lowered ride height, special track-tuned alignment settings, new bushings, cross-axis ball joints in the front suspension, and revised calibration controlling the MagneRide dampers.
As for the ascetics of the GT350R, Ford with all out with new and aggressive aero parts.  Some of these new additions include a hood vent, aggressive diffuser, vented wheelwells, fender vents, wheel air curtains, and side skirts all help the GT350R look mean while helping it cut through the air more efficiently. A newly revised front splitter maximizes downforce, and a carbon-fiber rear wing is a new addition.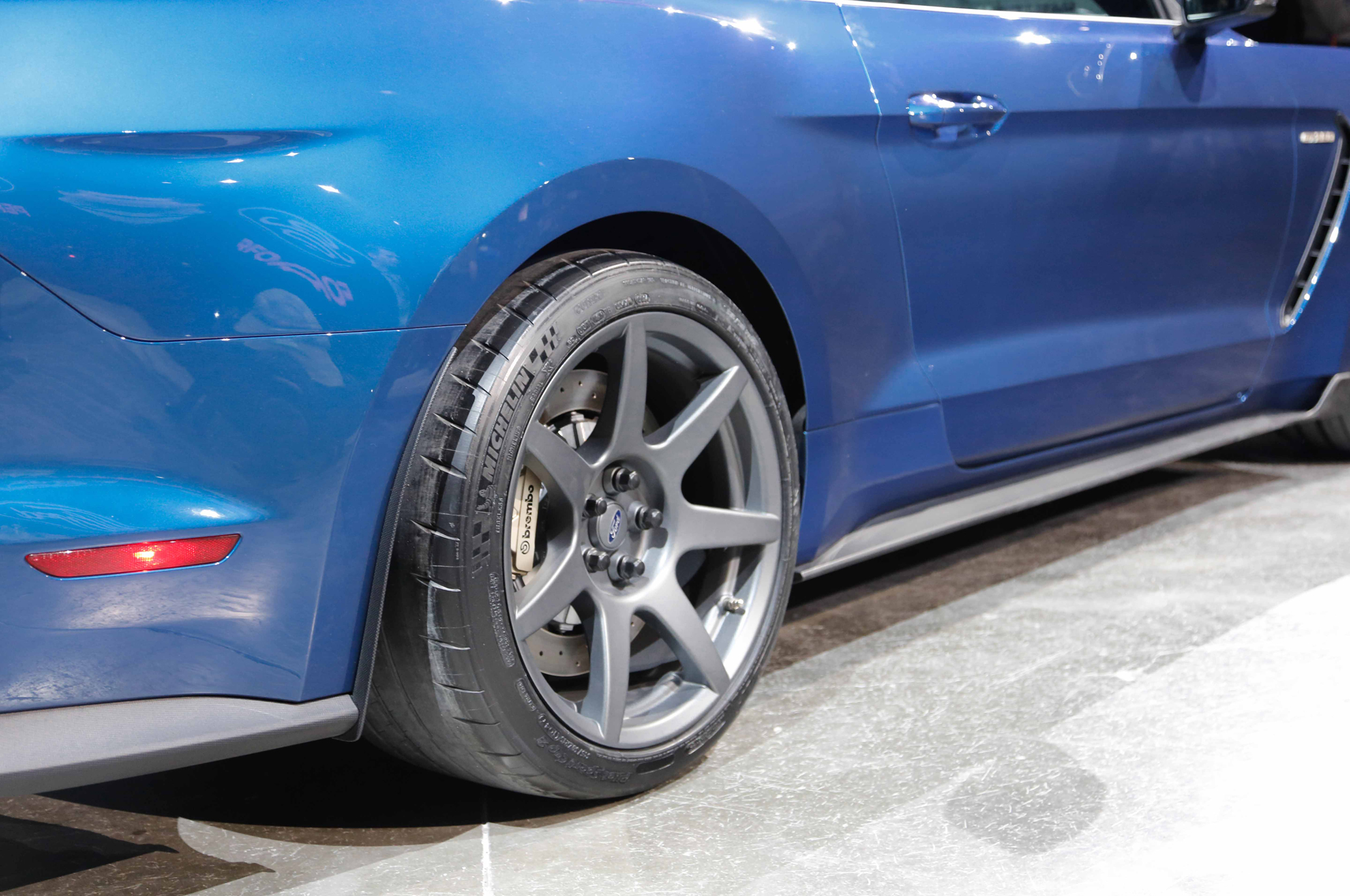 Leaving the best for last of course are the all new 19″ wheels made of carbon fiber.  Made by an Australian CF manufacturer called Carbon Revolution, each wheel weighs 13lbs less than the typical 19″ alloy wheels and provide more rigidity.  "Obviously the carbon-fiber wheels have been really exciting to work with," Ford VP of design Moray Callum told us. "That's a real first and helps get a little bit more stance in the car as well." Those nifty new wheels decorate Michelin's top-shelf Pilot Sport Cup 2 high-performance tires, 305mm wide at the front and 315 in the back.
Ford engineers had an aggressive weight-savings target for the GT350R, and by the use of carbon fiber they were able to make their goal.  Getting rid of things such as air conditioning, stereo system, rear seats, trunk floorboard, carpet, backup camera, and the emergency tire sealer and inflator helped shave off an overall 130 pounds compared to the GT350 Track Pack. If you find you do want some of that stuff, an electronics package that adds dual-zone air conditioning, 8-inch touchscreen, nav, audio system, turn signal mirrors, and more will be optional.
If you have any further questions about the GT350R please contact RW Carbon at info@rwcarbon.com
RW Carbon
(714) 328-4406
Monday – Friday: 8am-4pm
Saturday & Sunday: Closed