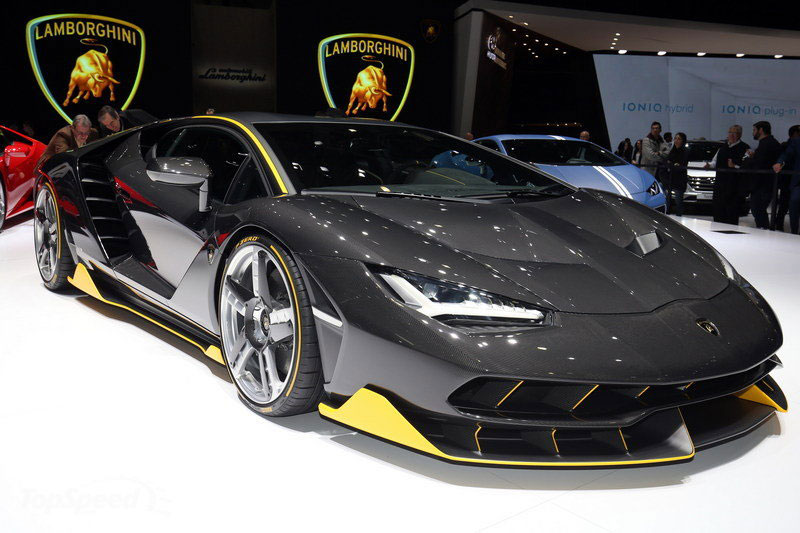 Lamborghini is apart of those elite super car manufacturers that are always pushing the limits of what a car with only 4 tires in contact with the road can do. Every few years Lambo brings a new specimen to the table that carries the newest technologies and somehow out performs their last super/hyper car creation. This time Lamborghini presents the all new 2016 Centenario, which is constructed out of mostly carbon fiber and carbon fiber composite materials.


Ferruccio Lamborghini was once an Italian tractor builder that went rouge and started creating some of the worlds best renown classic super cars. This year Ferruccio Lamborghini would have turned 100 years old, so in honor of this Lambo created this 217 mph Centenario. It made its first debut at the 2016 Geneva Auto Show and is the next contender on Lamborghini's series of "one-off limited editions." Although it is not truly a one off car, the production of this car will be extremely limited and getting your hands on one of your own is only for the most wealthy people in the world.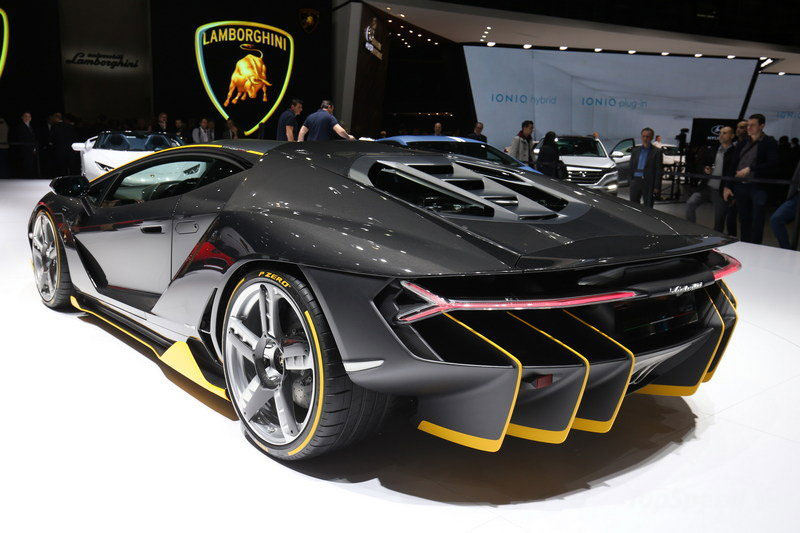 Like its predecessor (the Venero), The Centenario is another showcase of how talented Lamborghini's team really is. From the engineering to the overall craftsmanship there are few other super cars that can be classed with this one and Lambo wants to show this off. The Centenario was built on their mid-engine V-12 technology that can be seen in the Aventador.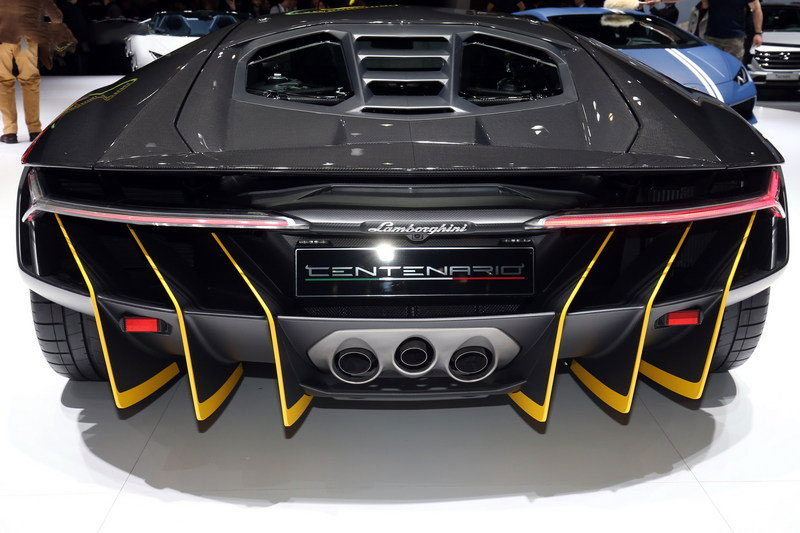 Team Lamborghini would have truly made Ferruccio proud with this work of art. Every piece of this new Lambo was build with purpose and true aerodynamic function. Its aggressively designed front end is perfectly balanced with its rear that sports 6 huge fins and air ducks, that surround 3 angled exhaust tips that are located in the center of the bumper/diffuser. Dramatic, Y-shaped tail lamps slice across the back a few inches below the Centenario's extendable rear spoiler, which can adjust its angle by up to 15 degrees.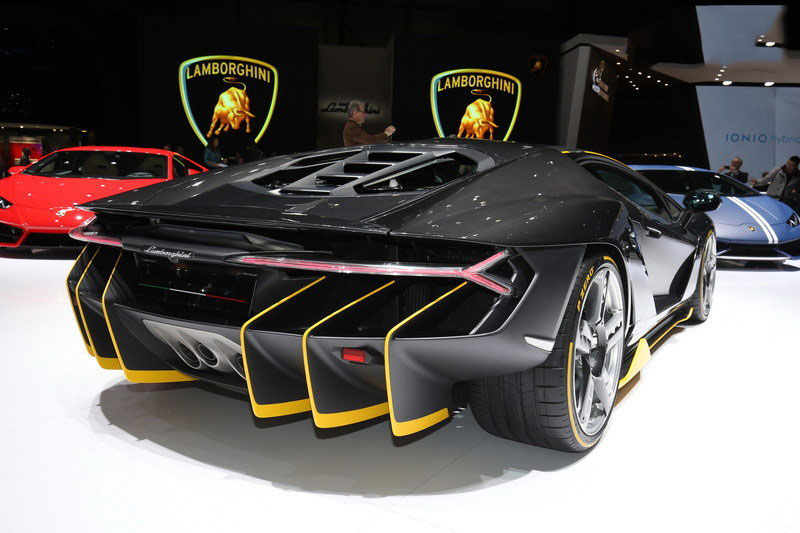 Although this is a completely new design for Lambo, its design shows plenty of homage to its heritage with its smooth silhouette, hexagonal side glass and horizontal oriented headlamps. However, instead of the traditional painted finish, Lamborghini decided to change it up and leave most of the pre-preg glossy and matte carbon fiber unpainted for a raw and aggressive look. For some added accent they painted accept pieces like the grille, diffuser fins and ground affects yellow, but this color will be custom chosen by the customer. The ground effects includes a front lip spoiler, rear diffuser and side skirt extensions.


To compliment this beautifully constructed Centenario, Lambo used center locking fan blade like spoked 20″ front and 21″ rear wheels that are wrapped in huge Pirelli P Zero tires. Each tire is then painted to match the accent pieces. Like the body panels, the central structural chassis is composed completely of carbon fiber, helping to lower the weight to only 3351 lbs, almost 700 lbs lower than the Aventador.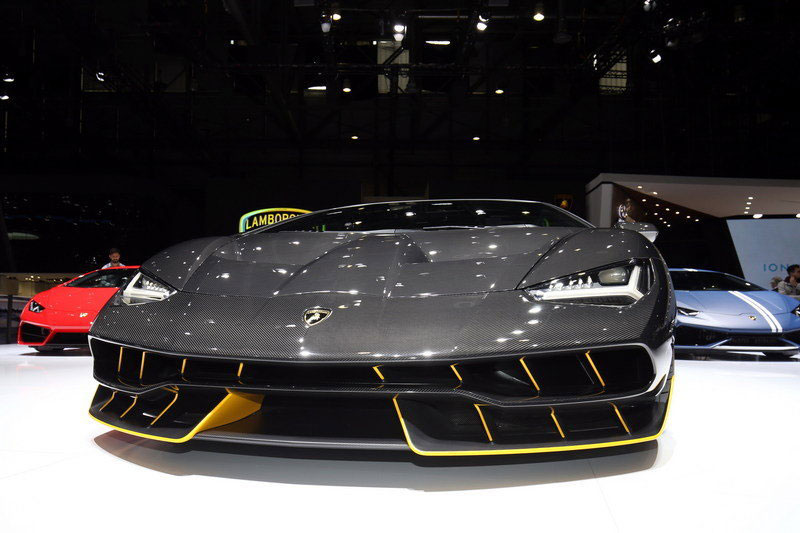 Powering this carbon fiber creation is a naturally aspirated V-12 engine that produces 759 horsepower, which is Lambo's most powerful production engine ever built.  The redline has also been bumped 100 rpm to 8600. Lamborghini expects this car to reach 60 mph in under 2.8 seconds and will hit 186 mph in only 23.5, but nothing has been officially tested.


In the past Lamborghinis were known to be extremely fast, but only in a straight line. In the past years Lambo has made huge improvements to the handling characteristics of their new cars. For this new model Lambo has incorporated a new rear-wheel steering system that is said to reduce its turning circle and offer more stability at high speed cornering. This feature also adapts to driving situations and driver selection modes of Strada, Sport and Corsa.


Inside the Centenario, it sports carbon fiber seats and generous amounts of leather stitching and micro-suede. Being almost 2 million dollars it incorporates an upgraded infotainment center with a 10.1″ high def touch screen with Apple CarPlay, Wifi and other useless but fun features like performance data recording that collects G Force data, lap times, 0-60 and 1/4 mile times.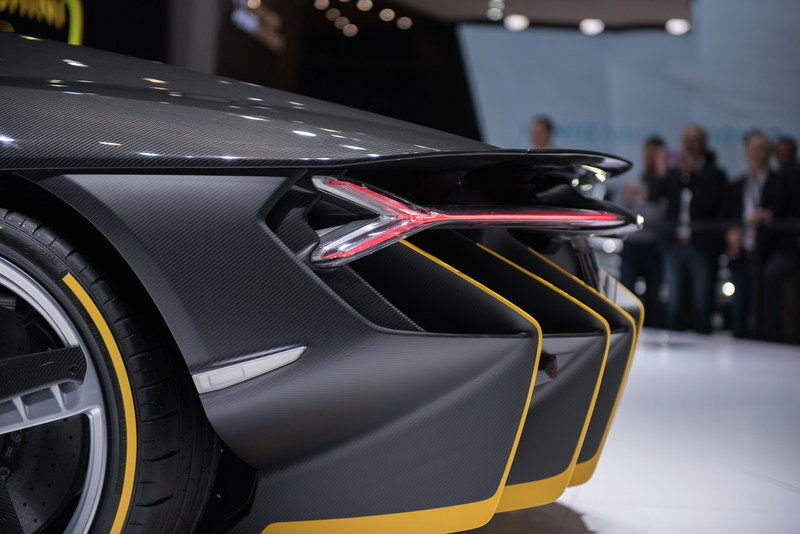 Lamborghini plans to build only 40 Centenarios, 20 coupes and 20 roadsters. However, if you somehow have the money and are interested, unfortunately all of them were pre-sold before its unveiling at the Geneva Auto Show.
For more information or questions please email us at info@rwcarbon.com. For all your carbon fiber needs please check out RW Carbon's online store at www.rwcarbon.com.
RW Carbon
(714) 328-4406
Monday – Friday: 8am-4pm
Saturday & Sunday: Closed