BMW F80 M3 vs Mercedes Benz W205 C63S AMG
If your eyes aren't immediately caught by carbon fiber products in our lobby, here at RW Carbon we like to display our favorite styles on either of our two shop cars – a Signal Green 2016 BMW F80 M3, and a Brilliant Blue 2017 Mercedes Benz W205 C63S AMG. Though both vehicles offer a different driving experience, we are brought to one question; which is better?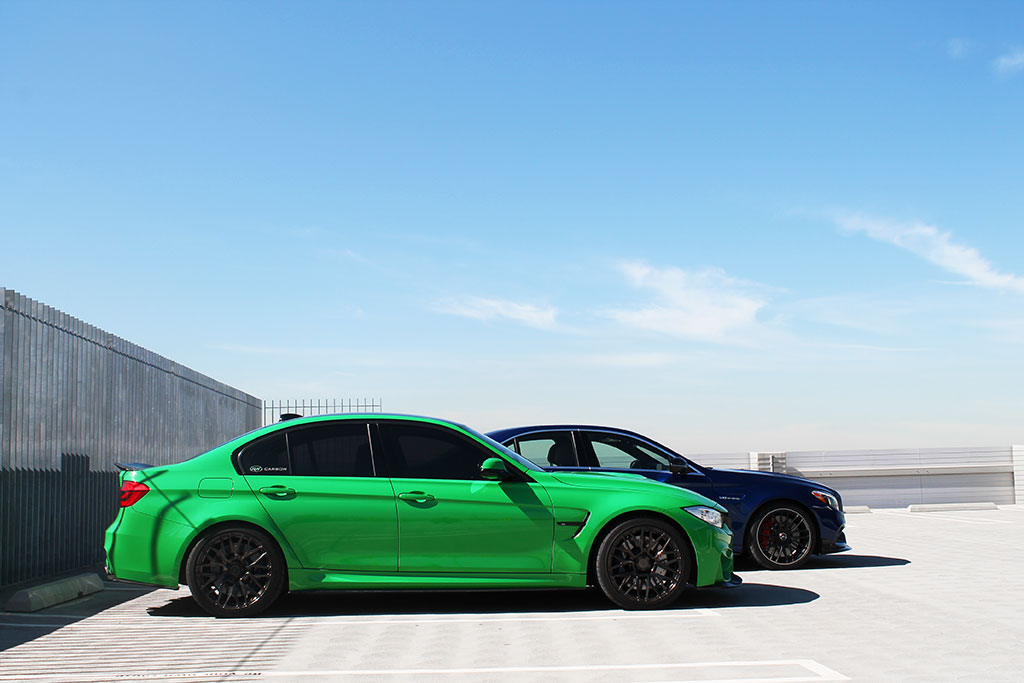 Looks wise, our M3 has been fitted with:
BMW F8X M3 M4 Varis Style Carbon Fiber Front Lip
BMW F80 M3 Carbon Fiber Side Skirt Extensions
BMW F30 / F80 M3 GTX Carbon Fiber Trunk Spoiler
BMW F8X M3 M4 3D Style Carbon Fiber Diffuser
BMW F80 M3/F82 M4 Carbon Fiber Seat Backs
On the other hand, our Mercedes Benz W205 C63S AMG has been enhanced with:
Mercedes W205 C63 Brabus Style CF Front Lip
Mercedes W205 C63 AMG Carbon Fiber Front Trim
Mercedes W205/W222 CF Mirror Replacements
Mercedes W205 C63 GTX CF Side Skirt Extensions
Mercedes W205 C63 GTX Carbon Fiber Diffuser
Mercedes W205 GTX carbon Fiber Trunk Spoiler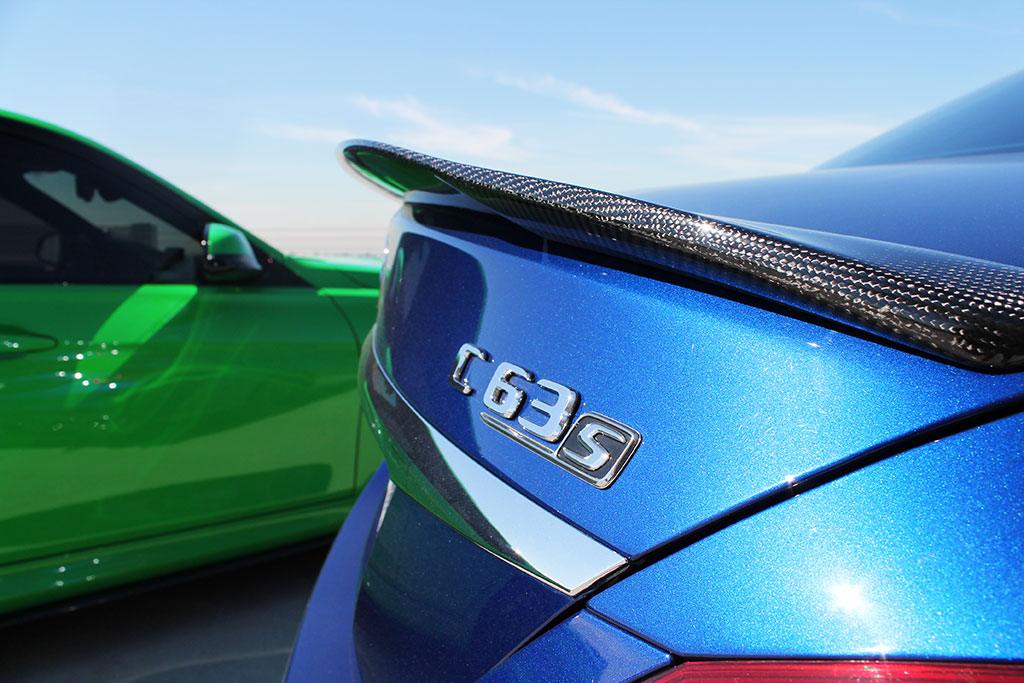 When considering performance, both the F80 M3 and the W205 C63S AMG have quite a bit to offer. Having changed from an 8-cylinder to a twin-turbo inline 6 cylinder engine, the M3 delivers 425 horsepower and 406 lb-feet of torque, while the W205 Mercedes packs a slightly bigger punch with a BiTurbo V8 engine producing 503 horsepower and 516 lb-feet of torque. Both machines come standard with rear-wheel drive, but differ in transmissions. The Benz comes equipped with a seven-speed automatic transmission, while the Bimmer comes standard with a DCT transmission for smooth shifting and razor sharp handling around the track.
Our shop M3's performance is currently enhanced with a JB4 tune producing 470 whp and wider tires (305, Bridgestone RE011's). We've noticed that while the Mercedes does have more torque, it struggles to put it's power down in first gear, and would likely benefit from larger tires which we have yet to install.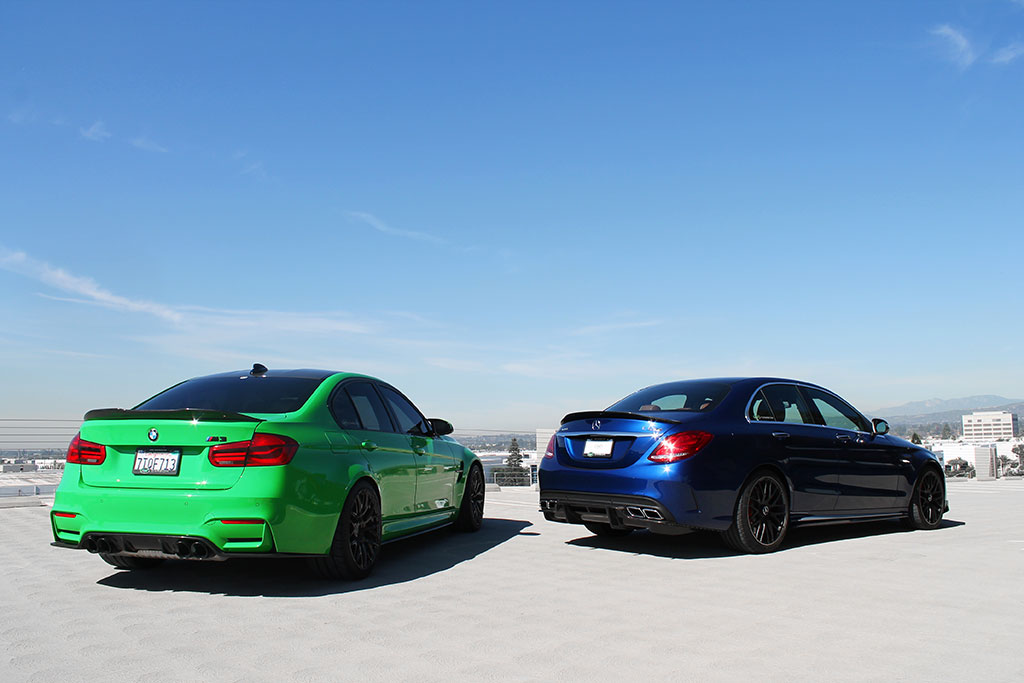 When it comes to the interior styling of both of vehicles, both the BMW and Mercedes differ massively. The C63 is built around a tablet-style multimedia display and aviation-inspired vents with smoothly finished wood and brushed aluminium trim.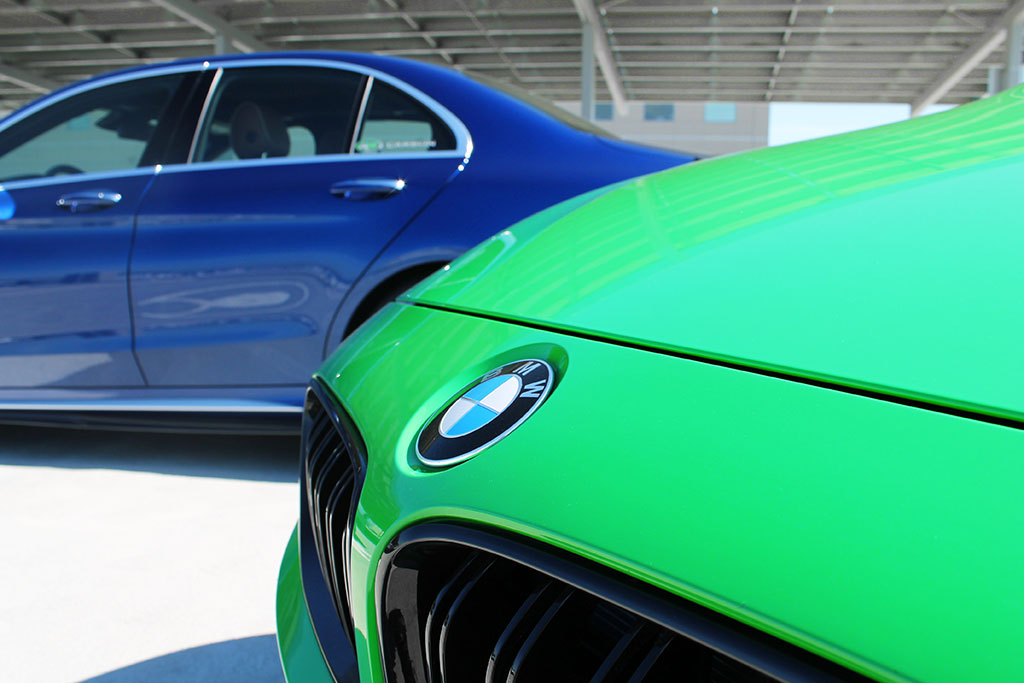 In contrast, The M3 has a busier interior layout with a larger amount of buttons than the C63S, and a slightly compact space that does not deliver the luxurious feel that is given with the Benz. However, It is still immaculately finished with leather alongside carbon fiber trim that creates a sporty appearance.
We've noticed that the interior design of the Mercedes and BMW truly show what the intended purpose of each vehicle is. The Mercedes gives a highly luxurious, comfortable feel which really doesn't seem tailored to the power beneath the hood, while the M3 interior is designed to fit the overall demeanor of the vehicle with a more simple, unique, race-inspired feel that almost gives off the vibe of a cockpit.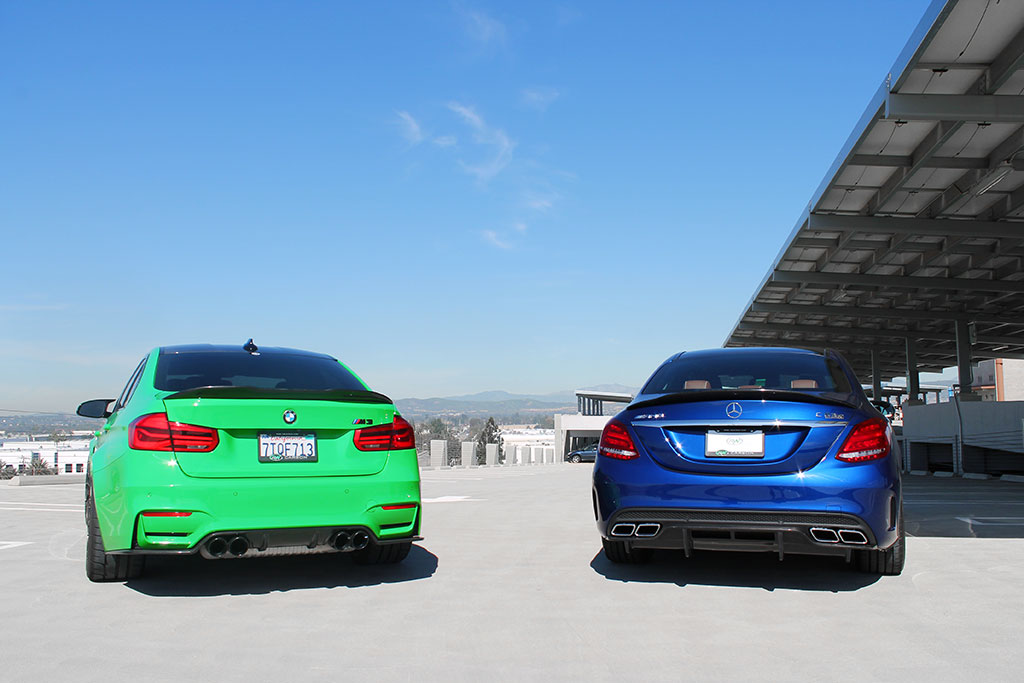 While their outer dimensions aren't quite different from each other, the AMG feels like a bigger vehicle than the M3, and the fact that it weighs about 3,856 pounds in comparison to the M3 weighing in at 3,540 pounds may be the culprit. After driving both vehicles through the same canyon under the same conditions, we speculated that the M3 has more performance capability than the Benz in terms of handling and cornering. While the Benz's predecessor W204 is more of a drag-strip style-pull kind of ride, the W205 still doesn't quite hold up to the cornering ability of the current M3.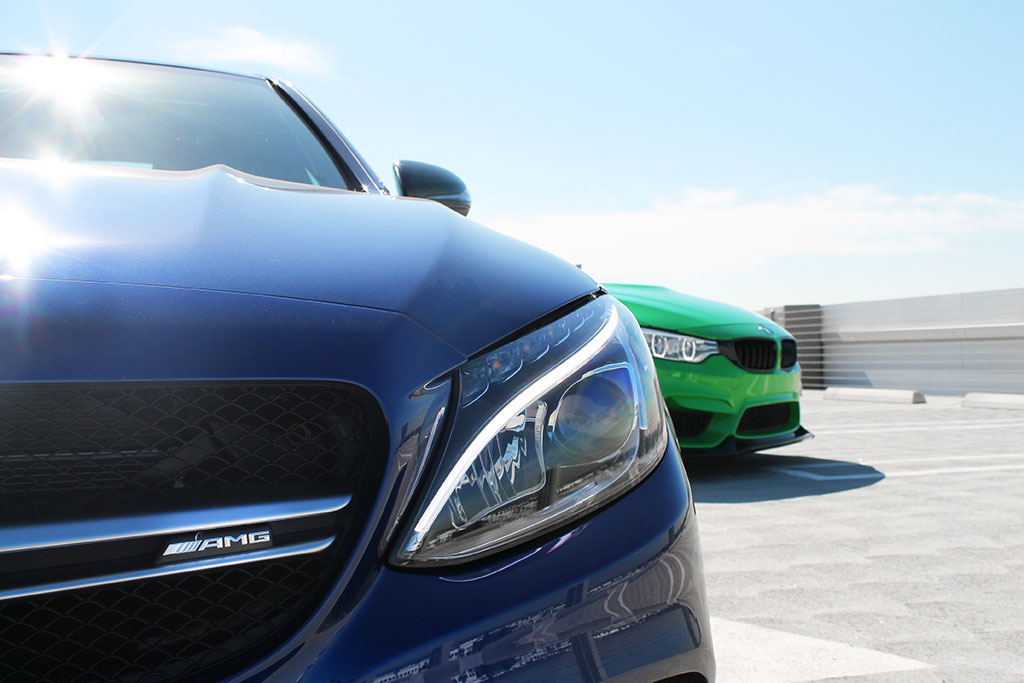 Overall, the C63S and M3 both accel in various categories. With the AMG providing a luxurious appeal paired with sport- inspired handling and enough power to throw you back in your seat, it proves itself to be a strong competitor to the F80 M3. From our personal experience, we've observed the M3 and C63S stay head to head in most situations, and highly recommend either vehicle to any car enthusiast.
If you have any questions about these two cars or the carbon fiber parts used on them please contact a carbon fiber specialist at RW Carbon. 714.328.4406 or info@rwcarbon.com.
RW Carbon
(714) 328-4406
Monday – Friday: 8am-4pm
Saturday & Sunday: Closed