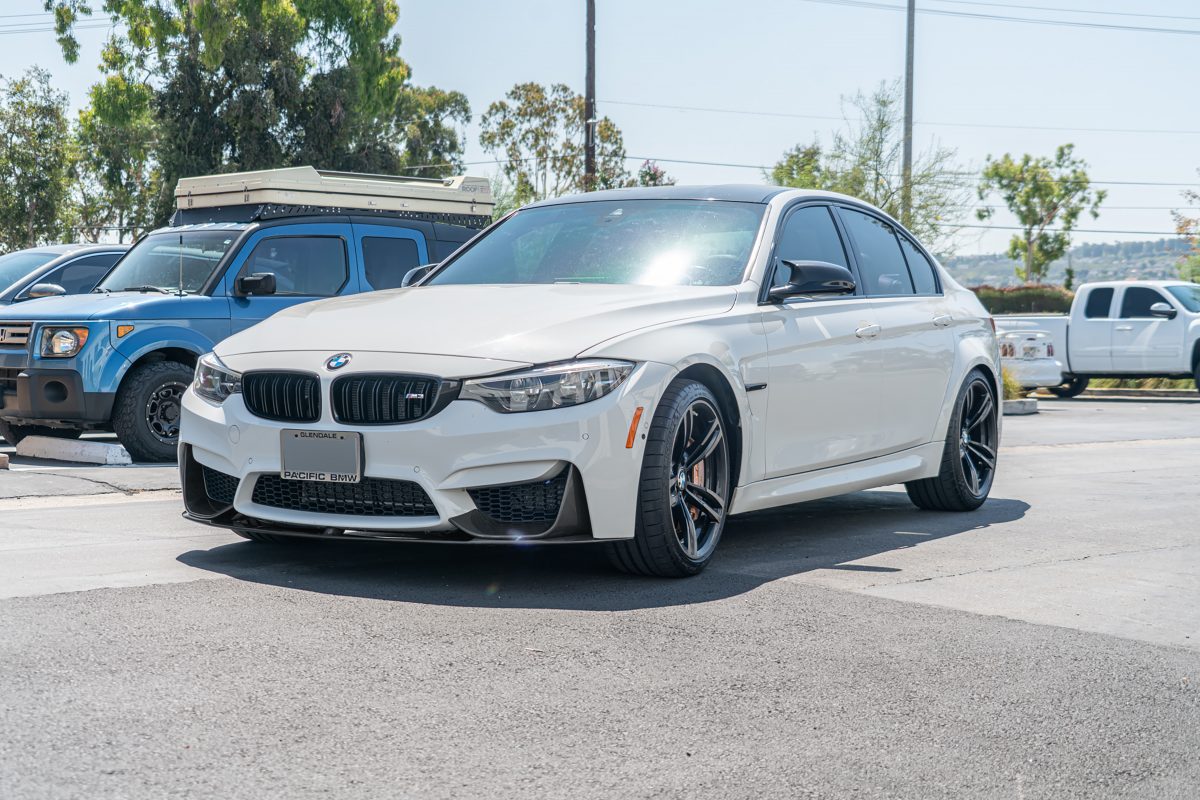 Any fan of BMW's can find appreciation in the F80 M3. Spanning over 3 decades it has now only been succeeded by the G80 this year. This is not to harp on any previous model though as there is a unique and authentic style that goes into each and every one of these vehicles. The customer for this vehicle in particular wanted to up the ante a bit to immortalize his ride with some extra carbon fiber styling. Featured on this car above is our BMW F8X M3/M4 Performance Style CF Lip Spoiler, F80 Carbon Fiber Mirror Replacements, BMW F8X M3 M4 Varis Style CF Rear Diffuser, and our BMW F80 M3 Performance Style CF Trunk Spoiler.
This performance lip is arguably the most popular front lip that we at RW Carbon have for the F80 M3. This lip comes with two splitters as a three piece design. This lip offers aggression like no other and completely transforms the front end appearance of this vehicle. Installation is always recommended to be done by a professional however the bottom lip is installed with self tapping screws and the splitters with double sided tape.
Moving towards the sides are where these F80 Carbon Fiber Mirror Replacements reside. These mirror caps are full replacements work just like the OEM counterpart and use genuine 2×2 dry carbon fiber.
The rear view is enhanced with an aggressive look with its design. The three "fins" offer such a unique look that will have bystanders give a doubletake after this M3 passes by. This diffuser also has an option to include the undertray along with the diffuser here.
Finishing off this BMW F80 M3 is our very own performance style trunk spoiler. This spoiler adds just the right amount of personality to truly encompass the full carbon fiber look for this customers vehicle. As with all the previous parts above, our carbon fiber parts are backed by a superior quality and fitment guarantee. Our parts are shipped out of our Southern California facility.
If you or anyone else you know have any further questions, please feel free to reach out to us via email info@rwcarbon.com or visit our website at www.rwcarbon.com. We would love to hear from you about your cars, comments, and or questions.
RW Carbon
(714) 328-4406
Monday – Friday: 8am-4pm
Saturday & Sunday: Closed