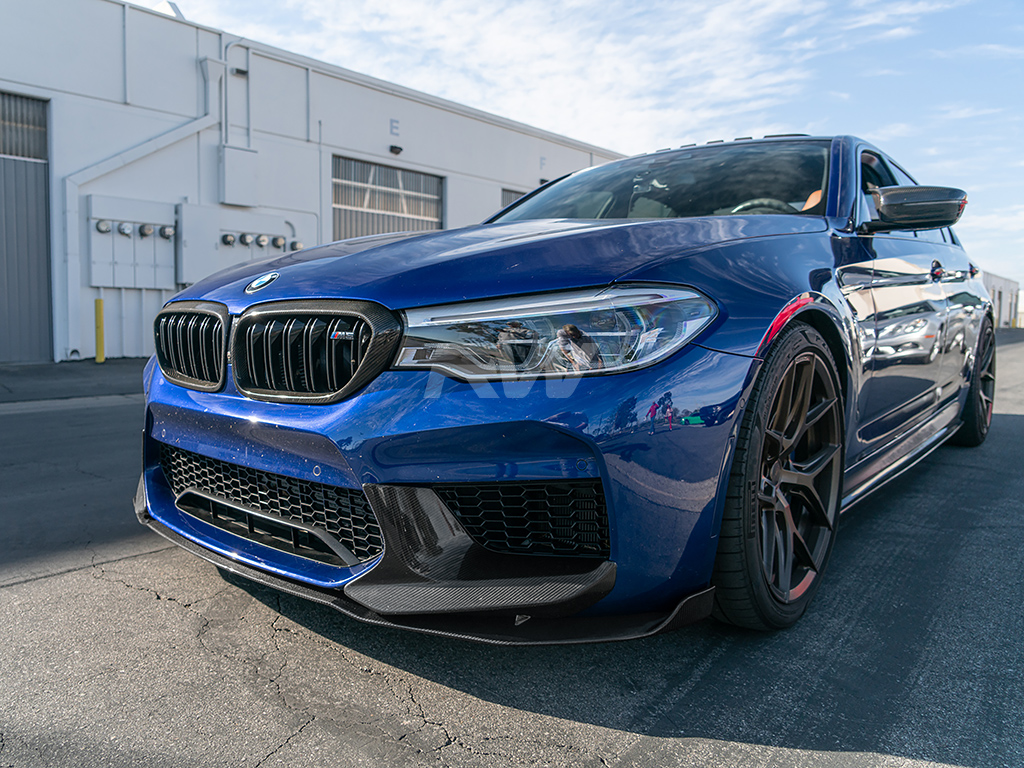 The BMW F90 M5 is a fantastic vehicle to begin with. At around 600 horsepower this vehicle packs a punch in addition to being a sight to see. The owner of this blue M5 decided that fantastic was just not enough. This vehicle was elevated to new heights with aesthetic carbon fiber upgrades to both the front and rear end of the car. Featured on this vehicle is RW Carbon's BMW F90 M5 Man Style Carbon Fiber Front Lip, BMW F90 M5 Perf Style Carbon Fiber Splitters, BMW G30 F90 GTX Carbon Fiber Trunk Spoiler, and BMW F90 M5 3D Style Carbon Fiber Diffuser.
Front End to Make Heads Turn
Starting off head on, this carbon fiber Man Style Front Lip Spoiler adds the fuel to the fire that is the BMW F90 M5. As if that was not enough, this customer also opted in to include our carbon fiber Performance Style Front Splitters to accentuate the aggressive nature of the front lip. Always expertly crafted in genuine 2×2 weave carbon fiber, you can always expect a solid look and fitment on your parts that will match any other carbon fiber already on or soon to be on your vehicle. To make great things better, you can expect to not lose much ground clearance at all from this lip.
Adding to an Aggressive Rear
This carbon fiber GTX Trunk Spoiler is probably our most aggressive BMW F90 M5 trunk spoiler that we have. Coupled with the diffuser seen below, this vehicle's rear end will be sure to keep eyes locked as it traverses down the road. This trunk spoiler simply installs with the use of 3M tape and promoter.
A Diffuser to Bring it Together
Lastly, we have this carbon fiber 3D Style Diffuser which pairs splendidly with the GTX Trunk Spoiler up above. This diffuser does come in a 3-piece kit which includes the center piece and two smaller pieces that extend along the sides. Like the rest of our carbon fiber, each piece is covered in a UV resistant clearcoat which helps it retain its shine and shimmer for the years of use to come.
If you or anyone else you know have any further questions, please feel free to reach out to us via email at info@rwcarbon.com or visit our website at www.rwcarbon.com. We would love to hear from you about your cars, comments, and or questions.
RW Carbon
(714) 328-4406
Monday – Friday: 8am-4pm
Saturday & Sunday: Closed