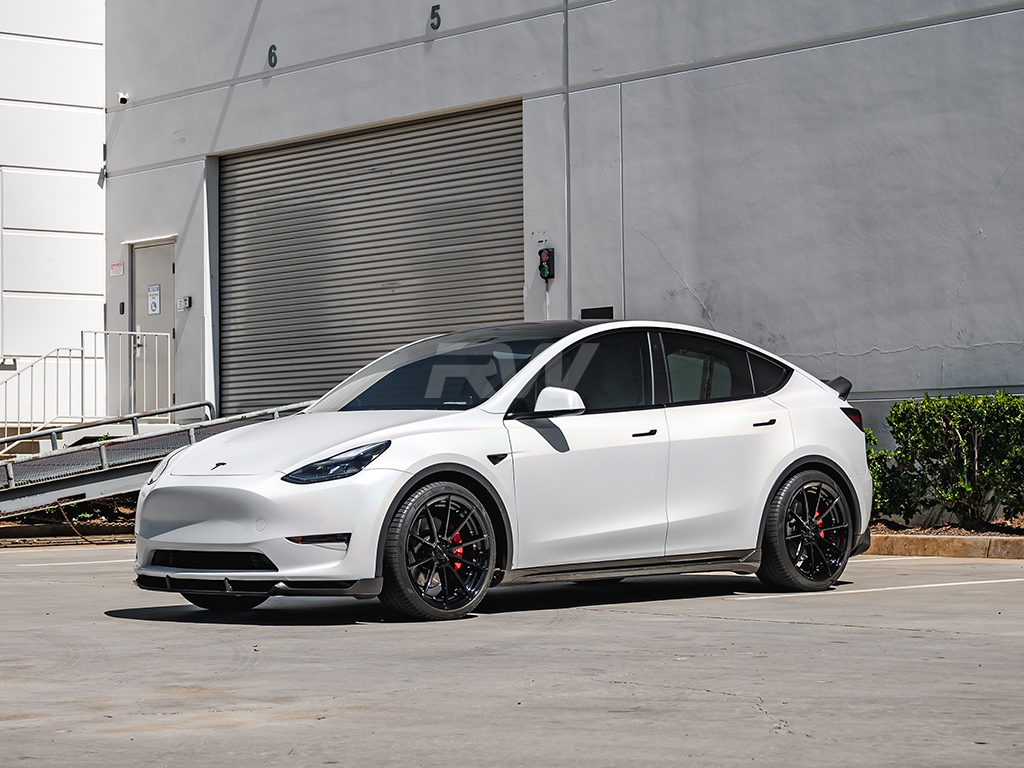 As one of the newer Tesla models, the Model Y has seen a large increase in its presence on the road in recent times. Because of this, distinguishability holds more value than ever before for this vehicle. RW Carbon is the antidote for mediocrity and outfitted this Tesla Model Y with a wide array of aesthetic upgrades to it's exterior which left its old husk in the dust. Featured on this vehicle is our DTM Full Carbon Fiber Front Lip Spoiler, Carbon Fiber Door Handle Covers, DTM Full Carbon Fiber Side Skirt Extensions, DTM Carbon Fiber Trunk Spoiler, and DTM Full Carbon Fiber Diffuser.
Front End
This carbo fiber front lip spoiler adds some breadth to the lower front end which gives off a much more aggressive appearance. Its front view look with this lip ups its appearance to that of its performance. Like all of our parts, it comes with a fitment and quality guarantee and made from genuine 2×2 weave carbon fiber material that is encased in a UV-resistant clearcoat.
Side Profile
Our carbon fiber door handle covers give off just the right amount of carbon fiber accents to not go overboard but compliment the overall build immensely. The side profile view of this Model Y is equipped with the aggression that our DTM carbon fiber side skirts offer by adding some much-needed additional flair.
Rear End
The rear end of your vehicle is typically what is seen by the most eyes. Due to this, our DTM pairing of both trunk spoiler and diffuser ensures that what is seen looks mean and filled with great vigor. With the punch that the Tesla Model Y packs, it is sure to pass up most people along the road. With these added parts, the car will be sure to not be mistaken as any other ordinary Tesla.
Contact Us!
If you or anyone else you know have any further questions about our RW Carbon Tesla Model Y parts or our carbon fiber parts in general, please feel free to reach out to us via email at info@rwcarbon.com or visit our website at www.rwcarbon.com. We would love to hear from you about your cars, comments, and/or questions.
RW Carbon
(714) 328-4406
Monday – Friday: 8am-4pm
Saturday & Sunday: Closed