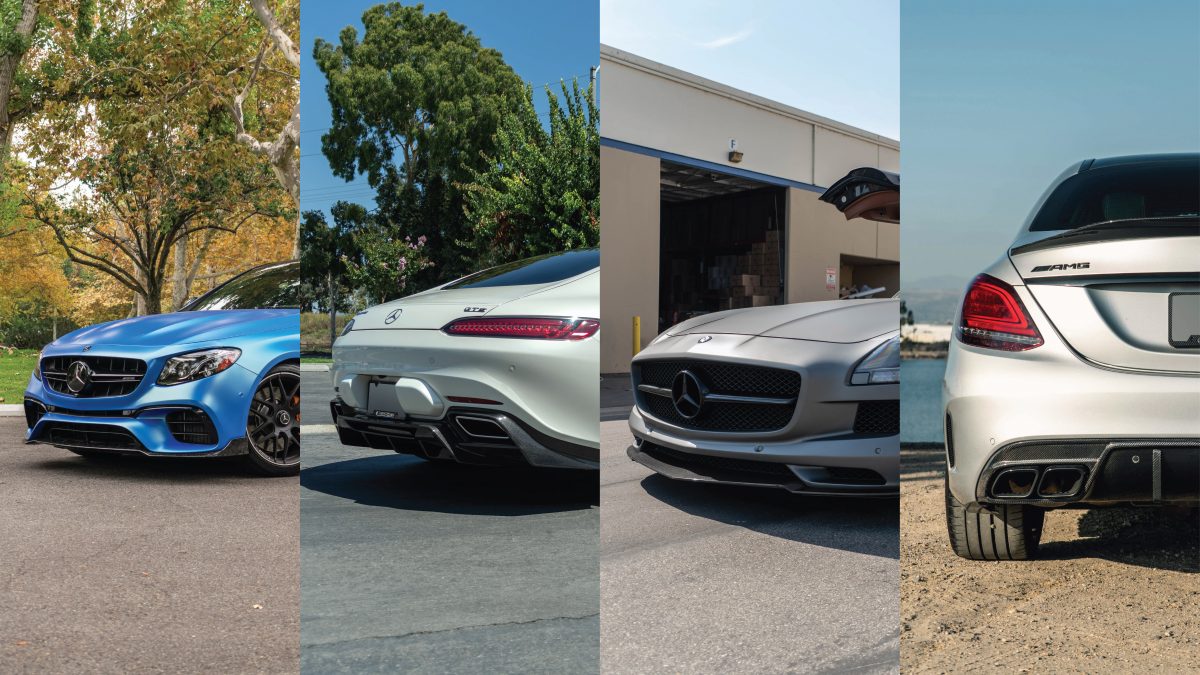 Silver W205 Mercedes C63S Sedan
This W205 C63 was completely kitted out and made for a sweet looking ride. This kit included out GTX Carbon Fiber Trunk Spoiler, our DTM Carbon Fiber Diffuser, Mirror Cap Replacements, and GTX Carbon Fiber Side Skirt Extensions. All of these parts paired with the sleek silver color of the vehicle made for something that stands out on the road.
Matte SLS Gullwing
One of the more rare models from Mercedes, this SLS Gullwing came in to get just about everything from RW Carbon. This SLS received our Carbon Fiber Front Lip, Carbon Rear Diffuser, and Side Skirt Extensions. Not only was this gullwing extremely rare, but the owner opted to make it look even more unique the RW way.
Matte Blue W213 E63S
Arguably one of our favorite kits to date, this Matte E63s opted for our FULL forged carbon kit that was placed with a custom order. This E63S got our Forged Carbon Mirror Caps, Forged Carbon Rear Diffuser, Forged Carbon ED1 Spoiler, Forged Carbon BRS Lip, and Forged Carbon Side Skirt Extensions. Forged carbon was a very unique look for this E63S and the wait time on the custom order definitely paid off.
White Mercedes C190 GTS
Up next, this white Mercedes C190 GTS fitted with our C190 Carbon Fiber Diffuser, C190 Front Lip, and Carbon Fiber Side Skirt Extensions. Each of these pieces drastically changed the vehicle in a full 360 covering all corners with Carbon Fiber.
RW Carbon
(714) 328-4406
Monday – Friday: 8am-4pm
Saturday & Sunday: Closed