Introducing RW Carbon's new project car, our BMW G87 M2 in Zandvoort Blue! This new M2 packs plenty of features including a brand new design, a full carbon package from factory, and a 6 speed manual transmission. This M2 is a sporty car boasting a S58 twin-turbocharged inline-six that outputs a 0-60 time of 4.2 seconds This car was definitely a challenging car to find and it involved the team going out to Las Vegas, Nevada in order to pick the car up and drive it back.
RW Carbon has a ton of plans for this car including a wide variety of different carbon fiber parts, a new wrap, and new wheels that have yet to be determined.

We plan on developing a kit that features a unique design that has yet to hit the market so stay tuned to follow the build as it makes a full transformation in the coming months!
Phase 1 – Wrap
The first step in making our G87 M2 our own was giving it a unique color change. Thanks to the team over at Rolotech Wraps in Anaheim, CA, our M2 is one-of-a-kind, and able to tout itself as the world's first wrapped BMW G87 M2. Check out our video spotlight of our M2's full color change from Zandvoort Blue to Forest Green.
Phase 2 – Lowering Springs
From the factory, the BMW G87 M2 handles like no other BMW out there. However, we decided to take it's handling ability and upgrade it with KW HAS adjustable lowering springs. Not only have these springs improved it's stance, but it's cornering ability has skyrocketed. Peep our YouTube feature for more information.
Phase 3 – Carbon Fiber & Wheels
The carbon options for our G87 M2 are growing quickly, so in order to rock multiple different styles during our ownership, we opted to ease into our M2's carbon makeover by starting with our Performance Style CF Diffuser, Carbon Fiber Mirror Caps, and Carbon Fiber Front Duct Trims. With many more carbon fiber modifications in the works, be sure to check back and stay updated as this build continues to blossom.
Next up, our M2 received a set of AG M570R wheels in Brushed Gloss Aluminum. With the intention of matching it's newly wrapped body color with an equally stunning set of wheels, this color and design combination has brought our M2 to the next level.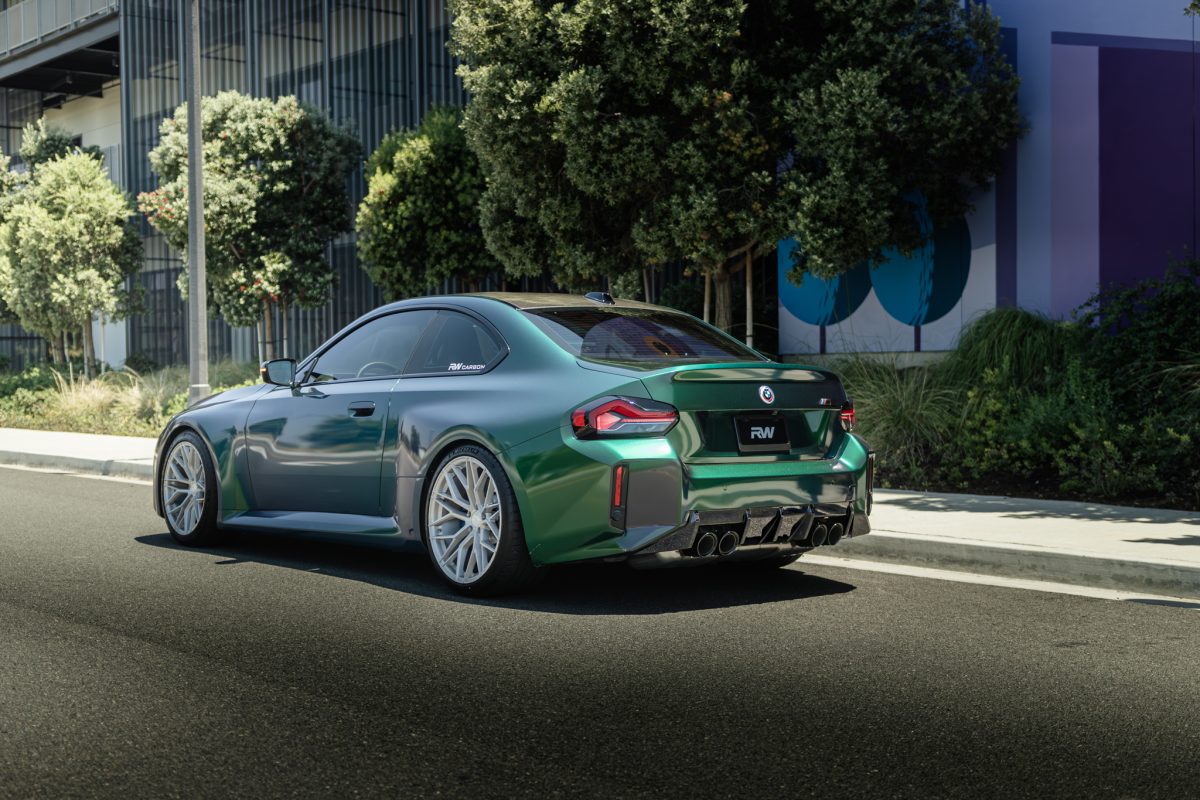 If you are interested in parts for your new G87 M2 or know somebody interested, please feel free to reach out to us by phone at 714-328-4406 or shoot us an email at info@rwcarbon.com
RW Carbon
(714) 328-4406
Monday – Friday: 8am-4pm
Saturday & Sunday: Closed