RW Carbon has various diffuser options for your Mercedes W205. We offer various different types of diffusers ranging from pre facelift sedan diffusers to facelift coupe diffusers and everything in between. This blog will be going in depth on the styles and available options in terms of diffusers for your W205.
Starting with the DTM Styles, we have options available for the pre facelift sedans and coupes, as well as options for the 19+ sedans and coupes. The designs on both of these types of diffusers feature aggressive fins and a durable construction to give your Benz the sporty look it deserves. The DTM diffusers do require bumper removal in order to properly fit the diffuser to the car without gaps in the fitment.
W205 Sedan DTM Diffuser
W205 Coupe DTM Diffuser
W205 Sedan 19+ Facelift Diffuser
W205 Coupe 19+ Facelift Diffuser
Secondly, we have a more OEM look to offer in the form of our regular carbon fiber diffuser for your Mercedes W205. Similar to the other DTM Diffusers, these diffusers offer more subtle fins to make a difference but in a more sleek fashion. These diffusers are full carbon and wrap around the exhaust outlets giving the back end a full carbon feel. These diffusers are crafted using the same 2×2 carbon fiber weave as other parts we offer so it is a seamless match to any of our other pieces. Alongside this, these diffusers are all coated with our UV Resistant clear coat to ensure durability over time. Here are the options available for the more subtle option.
W205 C63/C63S Coupe Diffuser
W205 C63/C63S Sedan 19+ Diffuser
W205 C63/C63S Coupe 19+ CF Diffuser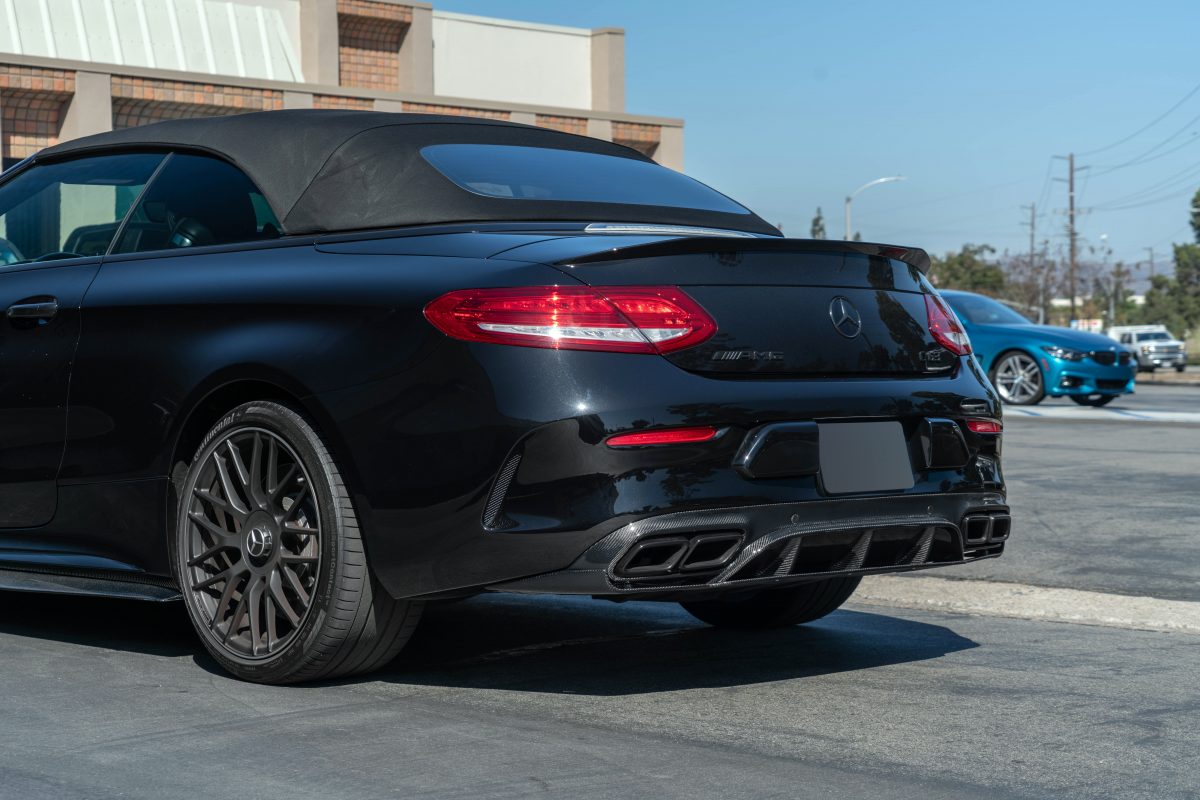 Moving towards a more unique design our W205 Coupe ED1 Style Carbon Fiber Diffuser is built to emulate the Edition One diffuser that comes stock on those cars. This is a very popular option amongst those who want the ED1 look without the hefty price tag. This diffuser is similar shaped to the OEM diffusers we offer with some slight differences in shape.
Another unique design that we offer is the BRS Style Carbon Fiber Diffuser which is a completely different design than other diffusers mentioned. This diffuser features a more complex design for the back end of the vehicle and less aggressive fins to give a more squared off look. It is recommended to purchase this diffuser with either our aluminum tips or our carbon fiber tips that are specifically for these vehicles.
For those of you who do not own the C63, RW Carbon offers a Facelift Style Conversion Kit Diffuser which will open up the customization options for your car allowing you to run any diffuser that will fit the W205 C63's. This diffuser conversion kit also allows you to purchase with or without tips allowing you more customization options.
Lastly, and arguably the most aggressive option available for the W205's would be out GTX Carbon Fiber Rear Diffuser. This diffuser not only features the rear diffuser, but this diffuser also includes the undertray which gives the car a very aggressive stance. This diffuser comes with a heavier price tag but is well worth the price if you are willing to pull the trigger on it.
If you or anyone you know is interested in any of these diffuser options, please feel free to reach out to us at info@rwcarbon.com or by phone at 714-328-4406.
RW Carbon
(714) 328-4406
Monday – Friday: 8am-4pm
Saturday & Sunday: Closed