Upgrade Your Mercedes Style with RW Carbon's Stunning Carbon Fiber Diffusers
Welcome to RW Carbon, where we believe that style should be synonymous with automotive excellence. In this blog, we are excited to showcase some of our collection of carbon fiber diffusers tailored for three iconic Mercedes AMG models: the C190 GT GTS, W213 E63S, and W205 C63/C63S AMG. Prepare to elevate your Mercedes AMG's visual appeal with RW Carbon's flawlessly crafted carbon fiber diffusers, designed to make a long lasting impression without compromising performance.
Mercedes C190 GT GTS C.F. Diffuser
The C190 is a true embodiment of automotive beauty, and RW Carbon's Mercedes C190 GT GTS Carbon Fiber Diffuser takes its allure to new heights. Our carbon fiber diffuser is crafted with utmost precision, seamlessly integrating into the rear of your vehicle. It clearly enhances the car's aggressive styling and exudes a refined charm when comparing to the boring OEM diffuser. This is by far the most meanest C190 diffuser that RW Carbon has to offer, making your GT GTS stand out on any road. Make a bold style statement with RW's carbon fiber diffuser for your Mercedes C190 GT GTS.
Mercedes W213 E63S C.F. Rear Diffuser
The Mercedes W213 E63S is a captivating blend of elegance and power, and RW Carbon's carbon fiber rear diffuser further enhances its visual impact. Our rear diffuser is specifically engineered to seamlessly integrate into the rear bumper, amplifying the car's sporty and commanding appearance. The carbon fiber construction not only adds a touch of aggression but also highlights the dynamic lines of your E63S. Embrace the perfect fusion of style and sophistication with RW Carbon's Mercedes W213 E63s Carbon Fiber Rear Diffuser.
Mercedes W205 C63/C63S AMG DTM C.F. Diffuser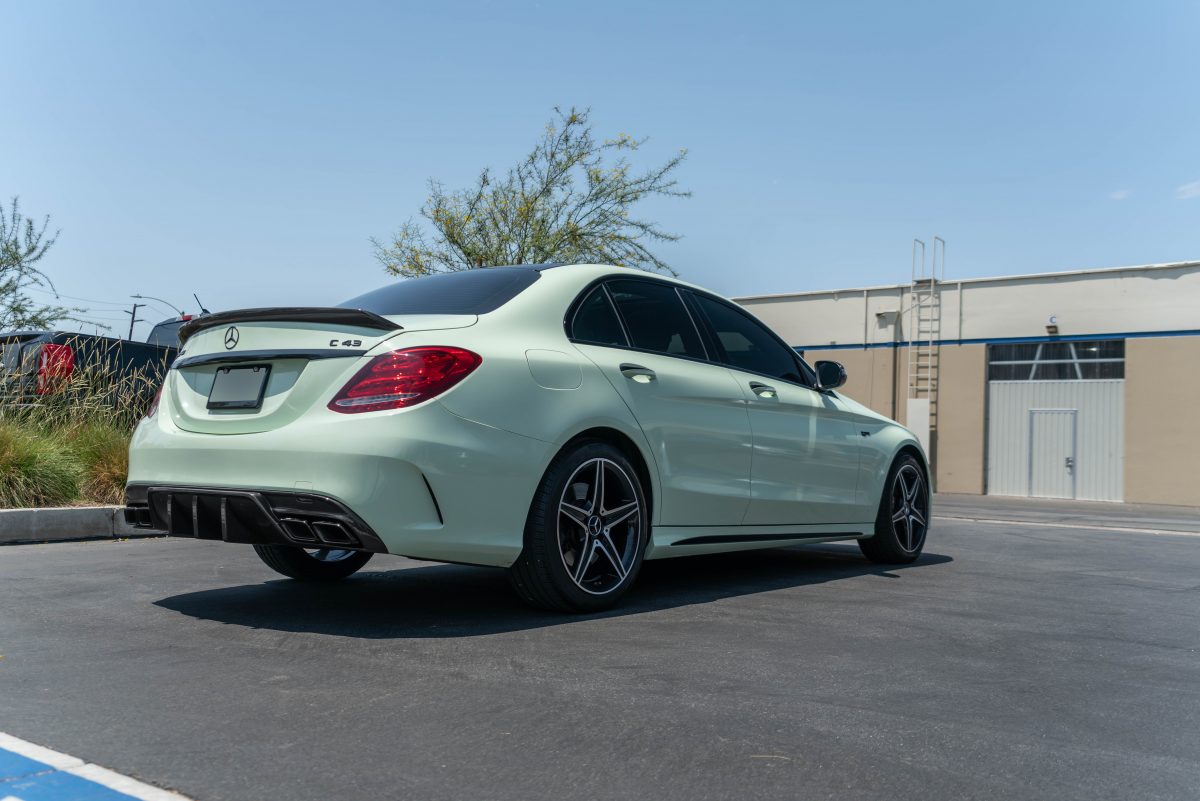 For those seeking an aggressive and race-inspired aesthetic, RW Carbon presents the Mercedes W205 C63/C63S AMG DTM Carbon Fiber Diffuser. This carbon fiber diffuser is a visual masterpiece that exudes sportiness and dynamism. It perfectly complements the muscular lines of the C63/C63S AMG, adding a touch of visual aggression. The carbon fiber construction ensures durability while the flawless fit enhances the car's overall appearance. Transform your Mercedes into a head-turning sensation with RW Carbon's DTM CF Diffuser.
As we conclude our journey into the realm of automotive aesthetics, RW Carbon invites you to upgrade the style of your Mercedes AMG C190 GT GTS, W213 E63S, and W205 C63/C63S AMG with our stunning carbon fiber diffusers. Enhance your car's visual appeal and leave a lasting impression wherever you go. RW Carbon's carbon fiber diffusers blend style, sophistication, and sportiness, allowing your Mercedes to reflect your unique personality and taste. Choose RW Carbon and unlock a world of unmatched visual excellence for your vehicle with our exceptional carbon fiber diffusers today.
RW Carbon
(714) 328-4406
Monday – Friday: 8am-4pm
Saturday & Sunday: Closed